WELCOME TO BEST MANUFACTURERS PESHTEMALS BLOG PAGE
Check Our Latest Posts
WELCOME TO BEST MANUFACTURERS PESHTEMALS BLOG PAGE
Check Our Latest Posts
PESHTEMAL REVIEW FOR AUTUMN 2018
Discover the Exquisite Peshtemals We Manufacture!
This week we will continue to introduce to you the hammam towels we manufacture and write our reviews on three of our hippest Peshtemals; Hereke Peshtemal, Fortune Beach Towel, Diamond Stripe Fouta. Each with their own unique stripy patterns you will find the one matches your taste. Either as a fashionable piece or a household item, you will see Peshtemals come in handy in any situation and it will reserve its spot on your travel bags forever once you give it a try and experience such a luxury and comfort.  In order to know more about the high-quality and elegant peshtemals we manufacture and wholesale in Denizli/Turkey we are waiting for you to visit the "products" section.
Hereke Peshtemal – Hammam Towel
Hereke is a traditional, unique patterned and world-wide famous Turkish carpet. As much as our hammam towels are modernized and can be used anywhere in any occasion, our designers wanted to give life to Turkish tradition and art in this model. Hereke Peshtemal is made of thin stripes but slightly different from our other stripy models. It consists of thin and frequent white stripes with braided fringes at the ends, and thinner but wide apart stripes in the middle. This hammam towel design comes with a variety of color options, combining white stripes with lively colors. Hereke Hammam Towel is rather lightweight, weighing only 260 grams. If you want to return to your homes with a traditional Turkish hammam towel, Hereke Peshtemal is an impressive and amazing option. Made of 100% durable and high-quality Turkish cotton, Hereke Peshtemal is unbelievably soft and comfortable. Being manufactured with ring spun yarns you will be amazed to see Hereke Peshtemal is extremely absorbent.
To learn more about the traditional hammam towel we manufacture visit Herek Peshtemal product page!
Fortune Peshtemal – Turkish Beach Towel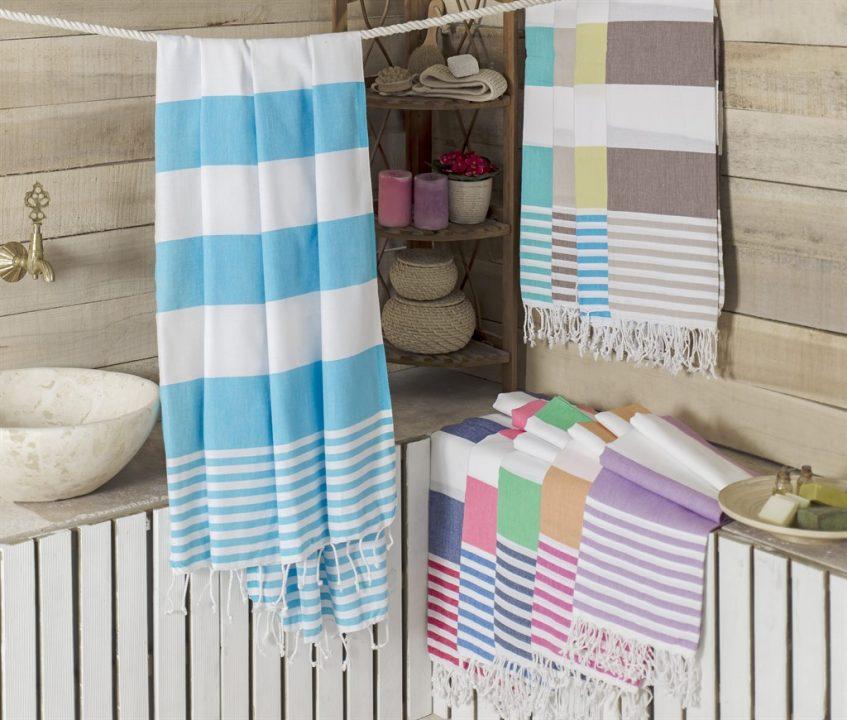 Fortune Turkish Beach Towel comes with a fresh look, our designers chose to combine serene and soft colored thick stripes with white ones in the middle and striking and defying colored thin stripes with white ones at the ends. And decided to crown this Peshtemal with delectable fringes hanging from the ends.  Instead of flashy colors, Fortune Peshtemal has a wide selection which will freshen you up at the beach, by the pool, sunbathing on top of a yacht, hanging loosely on your hammock and completing your perfectly designed living room. With this color spectrum, we changed what a traditional peshtemal looks like and created a whole new look to it.
Also having only 260 grams of weight, Fortune Turkish Beach Towel is featherweight and exquisite. Mobility and packing light are everything these days and should be valued. When we are manufacturing our top quality and special peshtemals we always consider the comfort of our customers and use the best cotton in the world. Believe us when we say that this Peshtemal is undeniably soft and safe to use. As the weaving type matters and affects a peshtemals absorbency we weave our Turkish Beach Towels with ring spun yarns and make them as absorbent as possible. Being extremely quick to dry, Fortune Peshtemal is a must have in your holidays.
To learn more about our featherweight Turkish Beach Towel design visit Fortune Peshtemal product page!
Diamond Stripe Peshtemal – Fouta Towel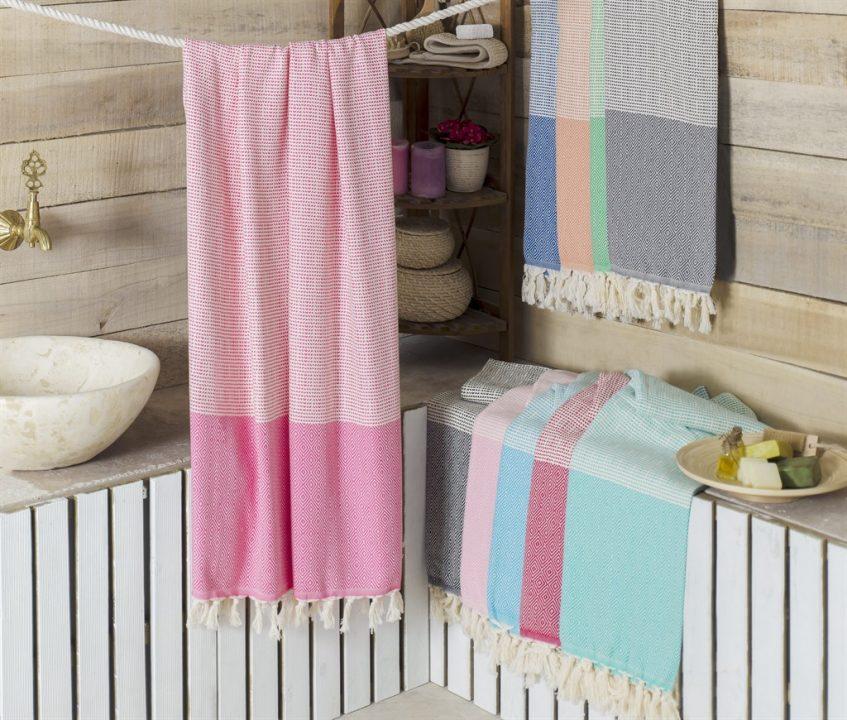 This product of premium quality has no other match in the entire peshtemal market! For years, it will be your indispensable and a hard to give up piece. We know that Diamond Stripe Peshtemal will be your lifelong friend once you touch it and experience such a premium quality product and it won't leave your side for many years thanks to its durability and high-quality content. Weighing 430 grams it is rather heavy compared to Hereke Peshtemal and Fortune Peshtemal, yet still lighter than ordinary terry towels! We could say Hereke Peshtemal and Fortune Beach Towel is perfect to travel and easy to carry around as Diamond Stripe Fouta has no match in your homes and daily lives. Diamond Stripe Peshtemal is what you need after a relaxing hot shower, welcoming you with a bird feather-like softness.
Woven with ring spun yarns and being a little heavier than other Peshtemals, Diamond Stripe Fouta is undoubtedly absorbent. Making your day is not hard with Diamond Stripe Peshtemal, take it with you to the park to relax and read while laying on it under the shadow of the tree or surprise your loved ones with small but cute picnics and Diamond Stripe Peshtemal will be there for you to have utmost comfort. Having ends embroidered in diamond shapes and frequent thin stripes in the middle, Diamond Stripe Peshtemal is a privileged model and screams its exclusiveness. The color selection of this product is made to serve to every taste.
To learn more about one of our top selling Fouta Towel designs visit Diamond Stripe Peshtemal product page!
Before we finish our weekly peshtemal review we want to mention a couple of important things! Be sure to visit our "products" page to discover the premium quality and exquisite peshtemals we manufacture and wholesale all around the world. We suggest you visit our "History of Peshtemal" page to learn more about the cultural and historical aspects of traditional hammam towels! Don't hesitate to contact us via our "contacts" page for any questions or your peshtemal wholesale needs!
Motto Peshtemal wishes everybody a happy year!