WELCOME TO BEST MANUFACTURERS PESHTEMALS BLOG PAGE
Check Our Latest Posts
WELCOME TO BEST MANUFACTURERS PESHTEMALS BLOG PAGE
Check Our Latest Posts
Perfect Towels for Gym : Turkish Hammam Towels
In this week's article, we are going to talk about one of the unexplored usage areas for Turkish towels. As you all know, Turkish towels have widespread usage areas such as bath, beach, sauna, hammam, travel and finally the fitness.
Gyms and fitness centers are where people sweat most and require to refreshen after. A warm shower is essential after the hard workout and this is the moment that will be unique to use Turkish hammam towels in other words peshtemal or fouta. It will give a sensitive touch with a soft and cleaner texture. Best quality Turkish towels are a perfect fit for those needs.
Healthy living and nutrition knowledge has trending across the world in recent years. People think of this activity is a high-end lifestyle hobby and they want to be comfortable during fitness time. The uniqueness and desirability of hammam bath towels come from the material, size, and absorbtivity. It is also very durable and dry quicker than any other alternatives.
High-quality perception requires gym owners to use this kind of quality Turkish bath towels. They can build brand identity more easily with the help of Turkish luxury collection towels. You can think of this as a sign of elegance, comfort, and quality. It can be challenging to choose towels for the gym but Turkish hammam towels are the right options from many perspectives.
Gym towels need to fulfill some basic needs such as cooling the skin, drying quickly, swiping away the sweat easily. Fouta towels are perfect for those requirements. The cotton used in the hammam towels enables the absorb moisture and any kind of liquid. Also, its extra-long fibers enable a quick-drying feature. Its weaving techniques also bring high durability after many washes. As you know, gyms and fitness saloons give high importance to hygiene and fitness towels need to be washed after every usage.
There are many Turkish towel manufacturers and hammam towel wholesalers in Turkey. In the first wave of popularity of peshtemal, hotels and spas create their luxury collection towels with many towels wholesalers. They have furnished their baths, saunas, and hammams with Turkish bath towels. It shows that it's time for fitness centers to leverage the benefits of Turkish towels. In other words, fitness towels will change eventually and traditional hammam towels are the best candidate for this change.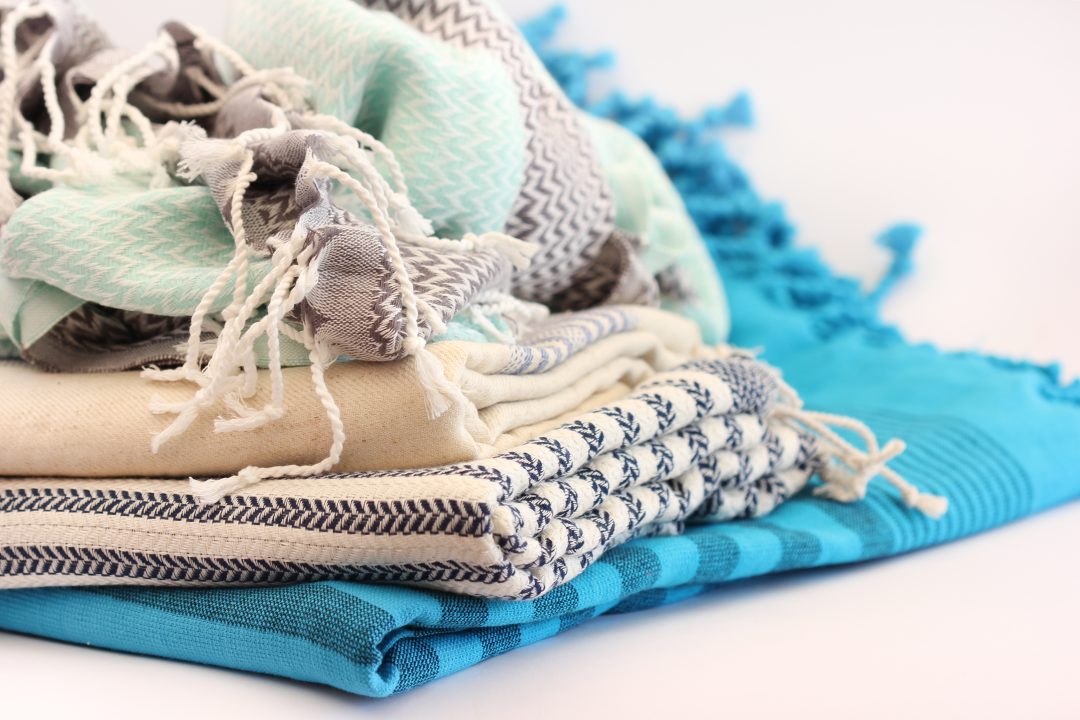 If you want to learn more about why hammam towels are a perfect fit as fitness towels and gym towels or if you want any wholesale inquiry, you can tell us your needs and how you want your products to be and we'll make it for you!
Don't forget why Turkish towels are the perfect workout towels and it's manufactured in Denizli, Turkey!
As the last part of our weekly article, we'd like you to remind business information about us. You can easily discover our luxury collection of Turkish towels, hammam towels, bath towels, peshtemal towels, and beachwear products. You can contact us for more information and wholesaling requests via the"Contact Us" page
Motto Peshtemal is a reputable Turkish towels wholesaler. We are open to collaborate with any gym and fitness center owners for quality and profitable business!