WELCOME TO BEST MANUFACTURERS PESHTEMALS BLOG PAGE
Check Our Latest Posts
WELCOME TO BEST MANUFACTURERS PESHTEMALS BLOG PAGE
Check Our Latest Posts
Decorate Your Facility With Peshtemal Bathrobes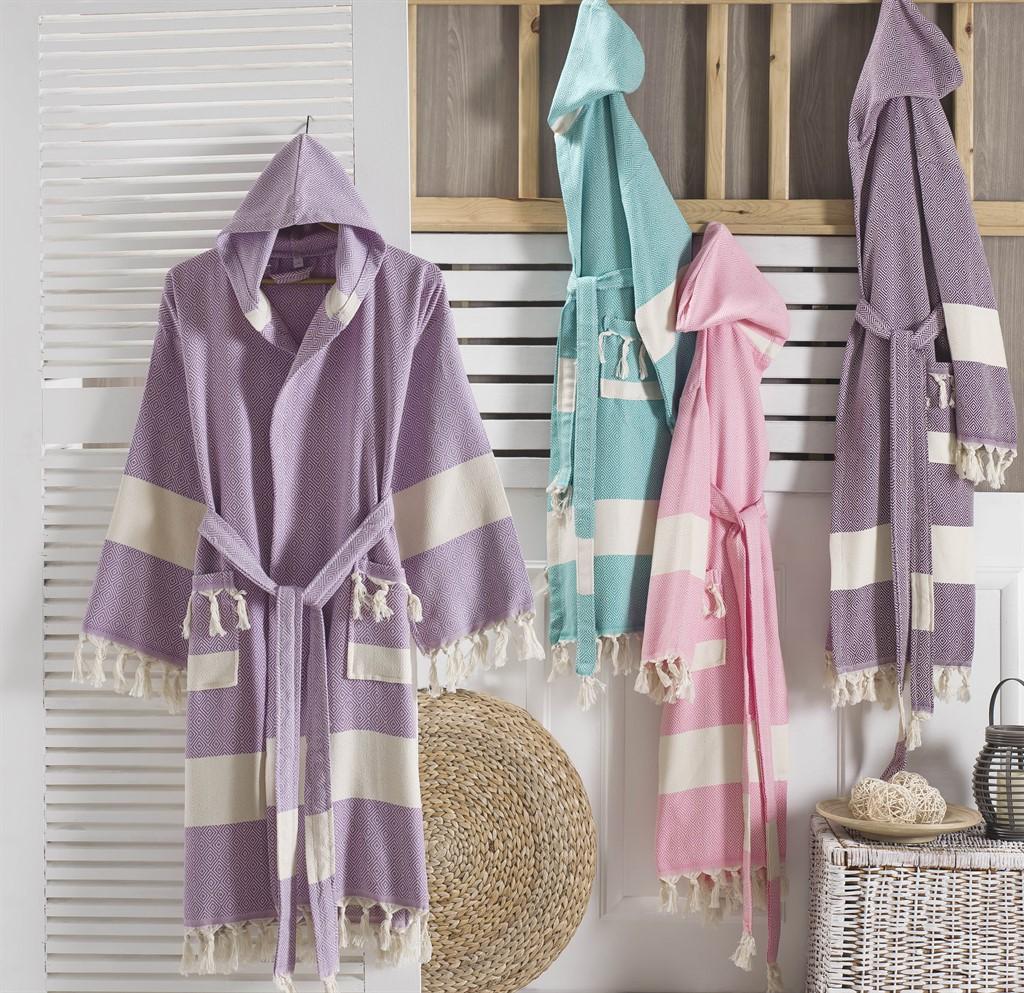 Innovation is the key to success! So why don't you try our latest fashion and premium quality peshtemal bathrobe designs in your facility? We don't only manufacture luxurious peshtemal designs but also light & comfortable peshtemal bathrobe designs you could use in your hotel, spa, gym, etc. No matter what business you run, decorating it with such elegant & unusual beauties would definitely make your customers remember you!
In this week's blog post, we'll write about our premium quality peshtemal bathrobe designs you could confidently and lovingly offer to your customers!
What is a Peshtemal Bathrobe?
Peshtemal bathrobes are an innovative idea Anatolian people came up with many years ago! To better understand, one needs to know a little about the history of peshtemals.
Peshtemal is a deep-rooted Anatolian tradition that people used & improved during the past centuries. The reason for this love for peshtemal is it being both light-weight & absorbent, quick-drying & soft, and last but not least, multipurpose! Peshtemal is not just a towel for Anatolian people, but a "companion" for them!
Let's answer the question now. What is a Peshemal bathrobe? It is an innovative idea born from this love for peshtemal.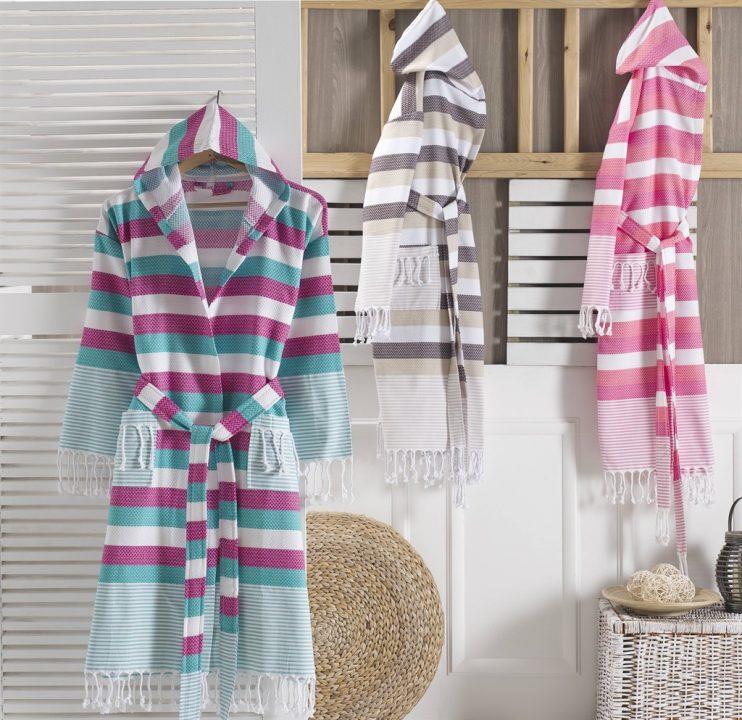 How is the Texture of Peshtemal Bathrobes?
Peshtemal bathrobes we manufacture & export are nearly the same with the premium quality peshtemal designs we manufacture with passion. They are:
Light-weight,
Highly absorbent,
Quick-drying,
Durable,
Last but not least, soft.
And as a responsible home & hotel textile manufacturer, we manufacture our entire peshtemal bathrobe collection 100% from hand-picked Turkish cotton as we do with our Turkish towel designs! And we get the eye-catching designs applied on the best dye-house in Denizli/TURKEY! We use harmless and reliable raw material, and anti-allergen dyes during the manufacturing process of our Peshtemal Bathrobe designs!
You could confidently & safely offer our comfortable & elegant Peshtemal bathrobe designs to your customers.
We'd like to also mention that as a manufacturer & wholesaler of Peshtemal bathrobes, we could manage to manufacture them from various raw materials per customer request! Contact us now if you liked our peshtemal bathrobe designs for any questions or peshtemal bathrobe wholesale needs!
How Can You Utilize Peshtemal Bathrobes?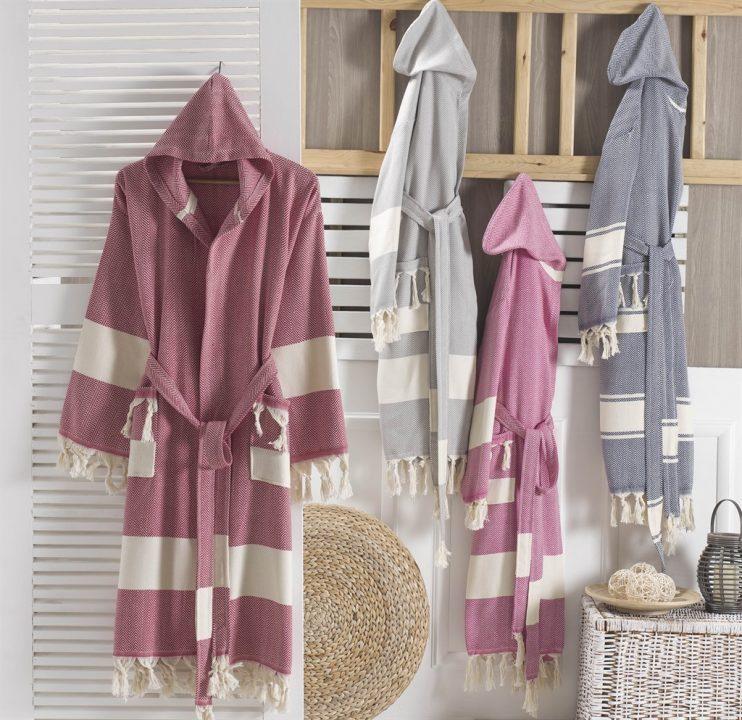 Yes, we work hard to manufacture high-quality and elegant peshtemal bathrobe designs for you to offer your customers! We also thought of some ways how you could utilize our beloved peshtemal bathrobe designs in your facility & increase your sales, or make your customers leave happy & recommend you to their friends & loved ones!
Peshtemal bathrobes are the perfect fit for hotel bathrooms, spa, swimming pools, etc. due to their light-weight yet absorbent, soft & quick-drying, and eye-catching texture! Your customers would definitely love the relaxing texture of our peshtemal bathrobe designs during an enjoyable session in your facility!
Thanks to their easy-to-carry & easy-to-wash texture, they can be perfectly used in beach clubs, swimming pools, etc as beachwear to cover up one's body during a fun day! You could prevent your body from the burning Summer 2019 sun without sweating so much! More comfortable than a dress and cooler than a towel, Peshtemal bathrobe is the latest beach fashion!
Modify our elegant Peshtemal bathrobes, add your name or logo on it and that's all! Peshtemal bathrobe is a unique and chic gift for your customers! They'd love to receive such a special gift from you, wouldn't they?
These are just a few of the ideas we had on our minds on how you could utilize our luxurious peshtemal bathrobe designs to enhance your business capacity during Summer 2019! We'd be happy to hear your brilliant ideas on how you could decorate your facility with Peshtemal bathrobes!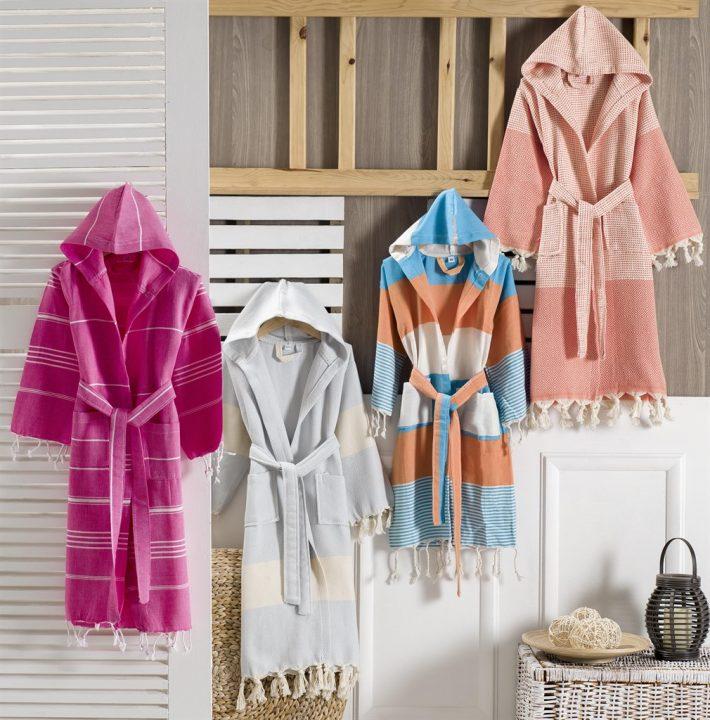 Before we finish this week's article, we'd like to tell a couple of things that'd be helpful for you! You can find our entire peshtemal collection, peshtemal bathrobe designs, and other home & hotel textile products we manufacture & wholesale all around the world easily on our products page!
You can find our email address on our "contacts" page easily! We'd appreciate your thoughts on our products & blog posts! And please don't hesitate to contact us for your questions about our Turkish towels, peshtemal bathrobes, and other home & hotel textile products!
Motto Peshtemal, peshtemal bathrobe manufacturer & wholesaler, wishes you a fun Summer 2019!