WELCOME TO BEST MANUFACTURERS PESHTEMALS BLOG PAGE
Check Our Latest Posts
WELCOME TO BEST MANUFACTURERS PESHTEMALS BLOG PAGE
Check Our Latest Posts
%100 COTTON PESHTEMAL BATHROBES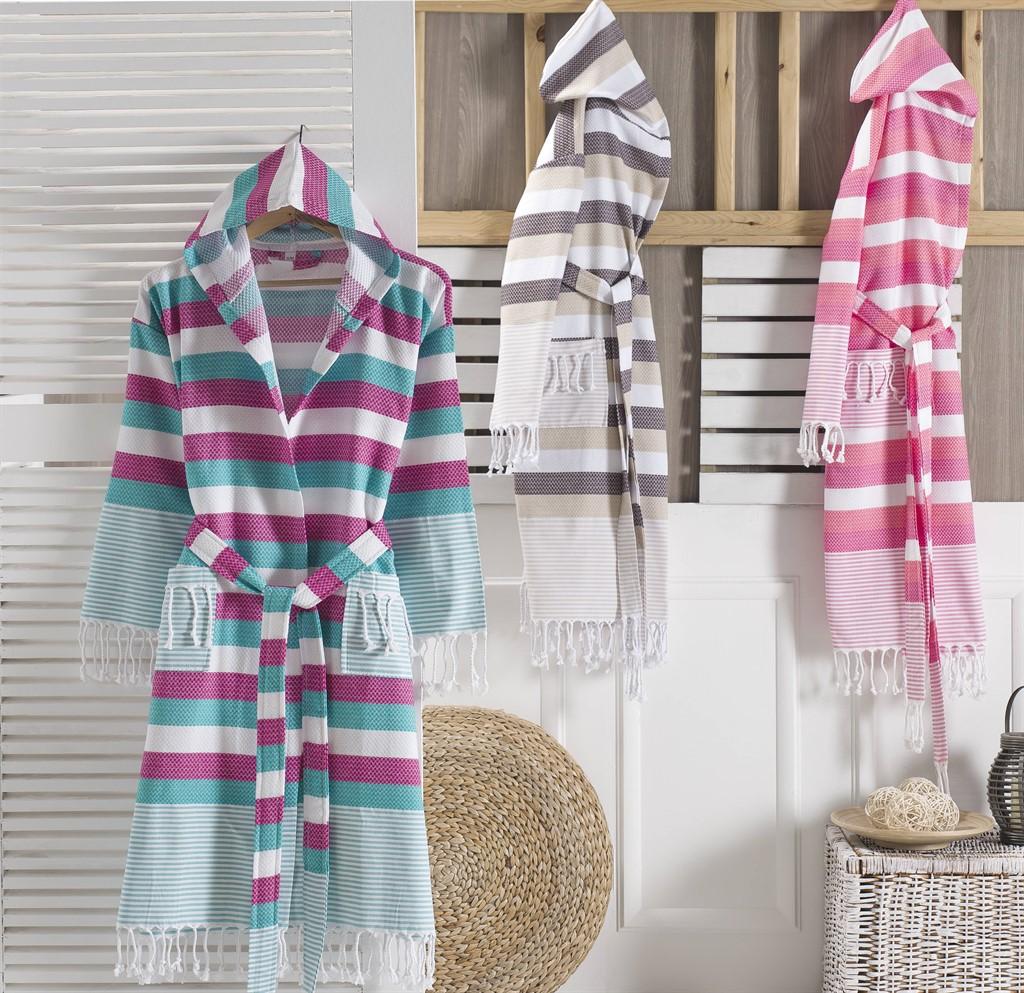 In this week's article, how about we tell you about our peshtemal bathrobes that we manufacture and wholesale. As a fouta manufacturer and fouta wholesaler, we wanted to take a look at the place where the peshtemal, which is a centuries-old heritage for you. Our Peshtemal bathrobes will be in your life with their modern designs and premium texture.
First of all, let's remember how we manufacture our peshtemal bathrobes. As a responsible home & hotel textile manufacturer, we manufacture our entire fouta towel, bath & hotel towel, patterned cotton fabric masks, baby blankets, beachwear, and peshtemal bathrobe collection 100% from hand-picked Turkish cotton! And we get the eye-catching designs applied on the best dye-house in Denizli/TURKEY! We use harmless and reliable raw material and anti-allergen dyes during the manufacturing process of our peshtemal bathrobe designs. Our entire collection is  100% eco-friendly and OEKO-TEX certified!
In addition to all these, we produce by taking all the precautions to ensure the most hygienic production for you.
WHY WE LOVE PESHTEMAL BATHROBES?
Well, what was the reason we love peshtemal bathrobes so much?
Because peshtemal bathrobes are:
Lightweight,
Highly absorbent,
Quick-drying
Extremely durable,
Soft
at the same time! We use %100 cotton and present you with the quality you deserve. And these make peshtemal bathrobe perfect for people!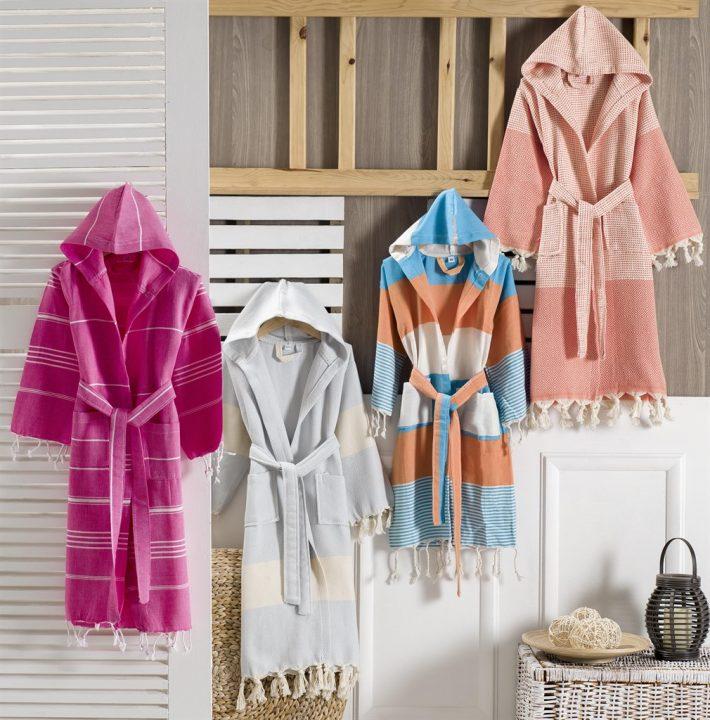 As we said in our previous article, we closely follow the fashion world and new style trends to produce the best and modern peshtemal bathrobes for you. We work hard to manufacture the best peshtemal bathrobes for you with different patterns, countless color ranges, and modern designs.
We produce wonderful bathrobes suitable for every home, style, and age for you.
To get more information about our not only Motto peshtemal bathrobes but also Turkish beach towels, patterned cotton fabric masks, beachwear designs, baby textile, home textile, bath & hotel towels, that we manufacture and wholesale with premium quality and care for you, you can browse our article DISCOVER PESHTEMAL WE MANUFACTURE & WHOLESALE IN 2020.
Let's take a look at our carefully produced peshtemal bathrobe designs for you.
OUR PESHTEMAL BATHROBE DESIGNS
CLOUD BATHROBE
After a relaxing shower, the Cloud bathrobe will make you feel over the clouds with its vibrant and sweet color spectrum. It is an indispensable Turkish bathrobe that you can use and gift to your loved ones.
The calmness, softness, and comfort of the clouds will be with you in our beloved and preferred peshtemal bathrobe design, cloud bathrobe.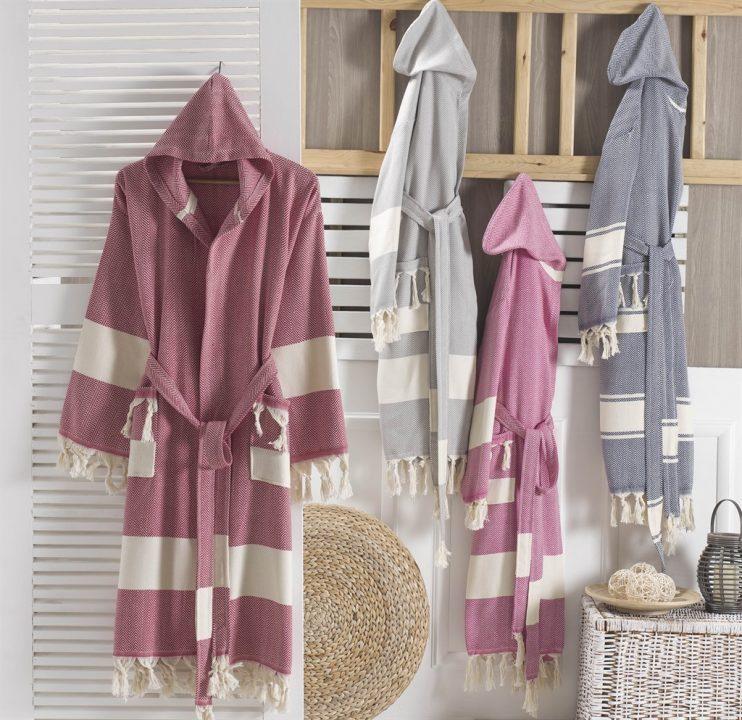 DIAMOND BAHTROBE
With its extraordinary softness and absorbency, our diamond bathrobes, which we produce from 100% hand-picked cotton fabric, are suitable for every taste with a wide range of colors. With diamond patterns on this bathrobe, you will feel like you worth a thousand diamonds. This Turkish bathrobe can be worn on the beach, spa, hammam, pool, and after the shower.
OCEAN BATHROBE
We designed our premium quality ocean bathrobes for you using wave patterns inspired by the ocean. These bathrobes present you with a fashionable choice of garment for spas, beaches, Turkish hammams, and yachts & baths.
SULTAN BATHROBE
This %100 cotton bathrobe will make you feel like the sultans of the shower. You will feel like sultans after every shower by coloring your bathrooms and hotel rooms with this special Turkish towel bathrobe.  Its unbelievable softness will make this piece a must-have.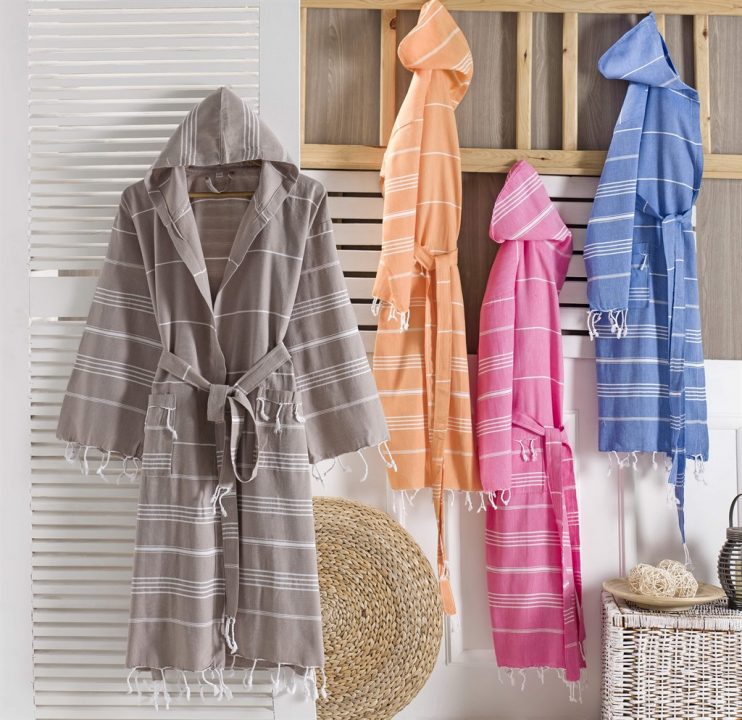 KIDS BATHROBE
For our children, we produced our kid's bathrobes that absorb water by touching their bodies sensitively and dry quickly.
With its cute designs and vivid color options, it fits perfectly for all children between 2 and 12 years old. Kids Bathrobe can be used without fear at hotels, spas, yachts in your bathroom after the showers.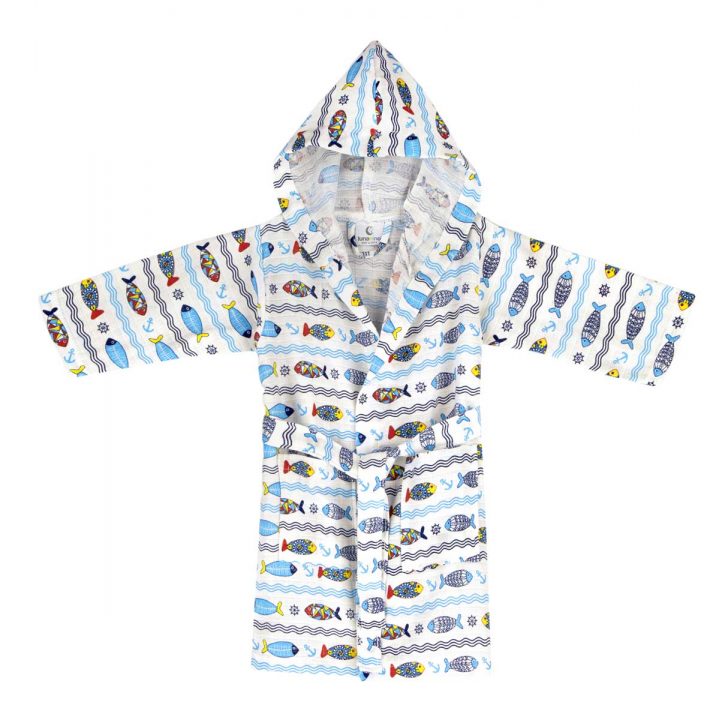 We hope you enjoyed our carefully produced bathrobes at the end of our promotional article. See you in our next article.
To stay updated about our newest products, services, and blog posts please be sure that  follow our Instagram, Facebook, LinkedIn, and Twitter accounts
You can find our contact information, phone numbers, and e-mail addresses, on our "contact us" page. Please don't hesitate to send us a mail for your questions about the peshtemal bathrobes we manufacture and wholesale, or about the services we provide, or for your fouta wholesale needs!
As Motto Peshtemal, peshtemal bathrobe manufacturer and peshtemal bathrobe wholesaler , we wishes you happier and healtier life !